Inspirational Television Shows
Ingrid's World LLC


Ingrid's World is inspirational television. The purpose of the show is to educate the viewer on the number of things that are available to them. Ingrid's World gives the viewer the opportunity to see the world through a positive lens and be inspired. The show's goal is to excite the viewer about life's possibilities and give them information that will help them meet that challenge. Using a talk show format Ingrid's World inspires the viewer to get involved. The 28 minutes show launched January 2013 serves as a vehicle to spotlight community heroes and role models. Guests have included experts in medicine, philanthropy, business, music, and education.
All shows are produced at the fabulous studios of Fairfax Public Access. Join us today at fcac.org and create your own show!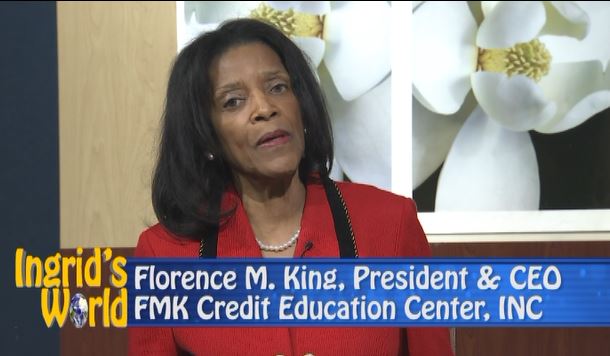 Ingrid's World - Ep. 89
Meet Florence M. King an expert in the fields of Money Management and Financial Literacy. She is the Chief Executive Officer of FMK Credit Education Center a company established in 1991 who's mission is to educate and empower the consumer on financial and credit issues in the marketplace. She is a frequent speaker on financial topics and an author of an e-book entitled Credit Survivor. In 2018 she received the Living Legend of Alexandria a prestigious recognition that is registered with the Library of Congress.
Ingrid's World Episode 89
Ingrid's World is on YouTube and on the following stations in Virginia:
FAIRFAX CITY & FAIRFAX COUNTY: Cox-Ch.10 & Verizon-Ch.10
FALLS CHURCH: Cox-Ch.10 & Verizon-Ch.10
LEESBURG & LOUDOUN: Verizon-Ch.10
PRINCE WILLIAM, MANASSAS & MANASSAS PARK: Verizon-Ch.10
STAFFORD COUNTY: Verizon-Ch.10
RESTON: Verizon-Ch.10
May 2020 Viewing Schedule